All you need to know about logging in 2020

My friend a system administrator recently switched to an organization that grew fast.  Last week his manager called a team meeting at first hour of the morning and informed him that from last one week multiple servers are going through an extreme load in midnight hour. He was assigned the job to find out what is happening. While we were discussing as to what may be the cause. He shared that they do not have any centralized logging server. A centralized logging server is a major component of operational and cyber security infrastructure for IT organizations. It can store hardware and software logs of entire infrastructure at one place. Many small organization considers logging servers as less important than monitoring servers and firewalls. In the situation of the outages, the logging server is very useful to find out useful piece of information for security breach incidents. A dedicated centralized logging is crucial part for PCI compliance. There are a large number of logging servers available. Choosing the right one may overwhelm you if you are going to set up your first logging server. This article will help in understanding a wide array of Linux system monitor web interface based logging solutions and to choose which suits your infrastructure needs. I will discuss about strategy behind choosing the system event log viewer and will provide a list of most popular web based log viewer.
System logs Vs Application logs
You have to be clear about why server log analysis is important for you.  An incident logging system can be fine-tuned for application customized server monitoring dashboard. It can be helpful to find application bugs and security breaches with detailed logs. Most operating systems come within an operating system logging software like Syslog. These logs can be helpful in root cause analysis and identifying hardware issues like faulty storage disks or high latency network connections. System log data may be useful for PCI compliance levels. Advanced application logging servers can take actions on the basis of system log while in cyber-attack. Application log data can be helpful in testing application performance and to improve the design and implementation of application.
Dedicated logging server VS Monitored logging server
An incident logging system and performance monitoring dashboard works very closely with each other. Often both overlaps, there are many solutions available that fill the gap between monitoring and logging. Popular solutions like Goaccess, Nagios, ELK stack and Kibana which integrates both logging and monitoring of IT and cloud infrastructure as well as IOT monitoring. Analytics dashboard tools needs huge storage and are compute intensive. Small logging tools like Syslog, Event viewer, kiwi syslog viewer are comparatively lighter on system resources.
Security Information and Event Management (SIEM) provides greater insight into security, network and system data combined. It can analyze real-time data and helps in laying out long term security and operations policy. SIEM is complex software as it is an added layer of time and cost for teams who do not use SIEM in their stack in the past and are new to it. It requires a whole dedicated team for monitoring and alert management for SIEM. Logging solutions are less expensive and needs manual log analysis while generating an incident report. SIEM Implements the audit policy, security policy and operational policy. It is a hybrid solution which can help you in Linux troubleshooting, root cause analysis in case of security breaches and in designing a proactive policy to avoid future events.
Storage is a big concern with logging activity. Networking, computational, IoT and security devices produce tons of log data every hour. If there is no proper policy about the retention of this data then this data can fill the storage very fast. A proper storage policy helps to manage storage resources for a longer period of time. Often it is accompanied by audit policy for compliance. Logging servers can be configured to store data on SAN or NAS devices. For less sensitive logs cloud is a cheaper and advanced storage point.  Cloud companies have also come up with monitoring and logging solutions like Cloud watch and Azure monitor which can be integrated with on-prem resources as well.Moreover, the Selection of the right logging tool depends upon the existing technology and technical expertise of the team. In most cases, it is advisable to choose a new technology that requires the least learning curve and increase efficiency.
Here is a list of PROS and CONS of 35 most popular logging servers
Pros:
Easy for analysis of logs
Rich GUI and monitor graphics
Supports REST API
Can be accessed over a browser
Can log data from Routers, Switches, firewalls, and distributed machines
Supports Application logging
Easily can be integrated with cloud, like Heroku, AWS and many more
Cons:
Expensive
Less retention period
Lack of privacy measures for team collaboration
Pros:
FAST and responsive
Lightweight
Backed by a strong open source community
Can export data in CSV
Collects data in JSON format
Cons:
Only terminal-based no GUI
Lack of enterprise support
Prone to security vulnerabilitiy
Pros:
Can be integrated with cloud platforms AWS, Azure, etc
Vibrant graphics and detailed system view
Can be integrated with ELK stack and Graphana dashboard
Provide security alerts
Cons:
Expensive
Compute intensive, requires huge systems
Hard to maintain historic data
Need a big storage
Pros:
Rich dashboard
Can process a large amount of data
Collects operating system and application data
Can collect data from a wide array of devices
Strong support
Cons:
Expensive
Less responsive dashboard
Agent-based
Pros:
Powerful dashboard
Supports application logging
Presents analytical data
Supports application data
Can collect data from a wide range of sources
Cons:
Expensive than similar open-source alternatives
Inconsistent dashboard performance
Very frequent updates
Pros:
Perform better than its counterparts
Simple and intuitive GUI dashboard
Supports cloud platform AWS, Azure, Heroku cloud
Scalable design can be scaled to 100's of host
Cons:
Not very rich dashboard
Supports less number of host
Costly
Lack of support
Less popular than other logging servers
Pros:
Rich set of plugins available to choose from
Most popular logging solutions
Rich dashboard
Part of ELK stack
Real-time search
Supports REST API
Multi-language support
Strong support
Cons:
Resource consuming
Less responsive dashboard
Too much less useful options
Pros:
Supports application log data
Supports a wide range of devices
Can send alerts over slack channel, mail and phone
Support cloud-based infrastructure
Cons:
Less responsive support
Does not support on-premise data
No community support
9.) Solarwinds Papertrail
Pros:
Intuitive UI
Easy to setup
Supports application data
Can send alerts on Phone, email
Supports major cloud providers
Cons:
Fewer features
No analytics, require manual analysis of logs
Pros:
Open-source
Supports monitoring
Can monitor systems and containers as well
Lightweight requires fewer resources
Supports Plugin
In streaming data processing
Cons:
Security bugs
Hard to install
There is no message delivery acknowledgment
Pros:
Lightweight logger can be integrated with Splunk and other monitoring tools
Free And open source
Very rich filtering capability
Highly portable, can be used with almost all *ix flavors
Cons:
Does not provide log analytics
Does not supports windows
No support
Pros:
Very fast in comparison with other centralized logging servers.
Supports multithreading
Provide application logs of major applications like SQL Server, Postgres, etc.
Open source and free. Comes default with many UNIX systems
Supports wide range network protocols
Cons:
No centralized dashboards
Does not provide automatic analysis of logs
Does not support windows
No support available
Terminal-based only
Pros:
Free and open source
Have SIEM capability
Rich GUI for real-time analysis of logs and security events
Supports application logging
Can be integrated with Syslog and Rsyslog for log collections
Support for REST API clients
Cons:
Security vulnerabilities
Supports only *ix based systems
No support plans
Pros:
Vibrant centralized dashboard for analysis of logs
Collects application data
Lightweight and fast in comparison of other monitoring and logging servers
Support in the streaming data processing
You can filter live real-time data to get an insight into metrics.
Cons:
Not actively maintained
Lack of support
Pros:
Free and open source
Backed by active open source community
Supports high volume big data
Can collect data over the network
Cons:
NO centralized dashboard
Does not support windows
Limited log analysis available
Pros:
Support data collection from the cloud
Network log analysis
Centralized dashboard for managing logs
Provide financial insight into cloud
Cons:
Supports only AWS, no support of other public clouds
NO free plans available for testing
Does not support on-prem infrastructure
Pros:
Customizable dashboard for system logging, application logging, and security logs
Real-time analysis of logs
Fast performance
Free tier available
Can export log reports over REST APIs
Can monitor Kubernetes cluster
Cons:
Limited control over data
Less secure
Expensive for high volume data requirements
Pros:
Open source and free
Can be integrated with major monitoring tools like Zabbix, Nagios
Features an inbuilt tool for creating incident reports
Provide application log capability of applications like SQL, PostgreSQL
Available for both Windows and Linux platforms
Can be used to collect network logs from network devices like routers and switches
Cons:
Not actively developed
No Support available
Security bugs reported
Pros:
Supports a wide range of data sources
Provides insight into security breaches and vulnerabilities
Helps in the formulation of rich incident reports including monitoring, security, and machine log data
Provides application log metrics support
Cons:
Expensive for a large amount of data
No free tail available
Cannot send alerts on mobile
Pros:
Open-source
Centralized dashboard for log analysis
Can collect logs from on premise, cloud data source
Provides application log metrics for performance analysis of running applications
Free tier available with limited features
Cons:
Security vulnerabilities
Does not provide monitoring data
Supports Limited data source
Does not support real-time data processing
21.) Sentinel Log Manager
Pros:
Can be used to collect log data from distributed systems and IoT devices
Features one-click report creation
Can predict storage requirements and cost analysis of hardware requirements
Can send alerts over phone/email or slack channel
Rich, easy and intuitive GUI for log analysis
Free trial available
Cons:
No support for application log
Limited data source available
No support for cloud data collection
Pros:
Provide insight into system logs as well as security
AI-enabled issue detection
Proactively scans systems logs for potential issues
Centralized dashboard to audit the log analysis
Available for SaaS, PaaS and public cloud
Single window for security, system log, and network logs
Free trial available
Cons:
Expensive license only monthly based payment
Less alert endpoint device supported
Not able to integrate with popular services like AWS redshift
23.) Netsurion EventTracker
Pros:
Provide Log monitoring, Threat monitoring, and global SOC center
Simple and powerful Centralized Dashboard
Intelligent system that can predict future threats by analysis history
One point solution for system forensics and threat mitigation
One-click report creation
Network monitoring and vulnerability assessment
Supports on-premise and public cloud platform
Cons:
Very expensive, one-time payment option only
Does not offer application logging and application security
Cheaper alternatives available
Very complex to learn, no training available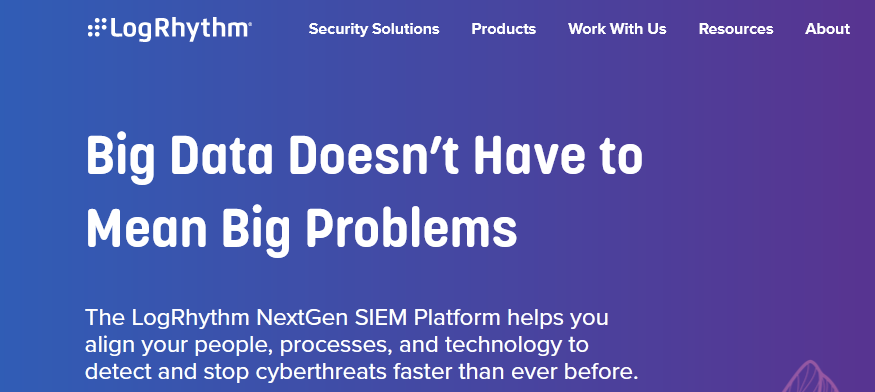 Pros:
Provide security and log monitoring
A proactive alert mechanism for threat reporting and threat detection
Centralized GUI based dashboard, very easy to use
Highly scalable for a large volume of data sources
Perform Log analysis, log parsing and report creation easily
Cons:
No support for log scripting in log analysis
No active support available
The dashboard cannot be customized
Less efficient log analysis feature
The agent is too memory intensive
25.) McAfee Enterprise log manager logging
Pros:
Intelligent log collection for log operational troubleshooting and security assessment
Can store log on NAS/SAN devices
Support log collection from an on-prem data source or cloud platforms
Can be used with or without MacAfee integrated security manager service
Rich GUI based centralized dashboard for effective monitoring
Cons:
Support integration only with MacAfee devices
The flash-based user interface, prone to security vulnerabilities
Complex GUI with lots of similar features
Cannot be integrated with cloud-based monitoring tools
Pros:
Customizable Dashboard for different data sources
Provides System logs and network logs
Can be integrated with Syslog
Simple Centralized dashboard for real-time analysis
Support archiving of logs and creation of the incident report
Can channelize critical log data for easy and fast log analysis
Cons:
Not actively maintained
Less documentation, support available
No free tier
Pros:
GUI based dashboard for system log and network log analysis
Provide support for application logging
Automatic and manual log analysis feature
Can monitor on-premise, and cloud data sources
Can be integrated with other metrics based on dashboards
New dashboard features can be added by using REST API
Cons:
Expensive license
Less efficient dashboard, very hard to write new scripts for analysis
No free tier license available, only quota-based pricing model
Pros:
Provide real-time insight into raw data
Contains minute details of each log
Collect lots of different log levels
Supports automatic and manual log analysis
Provide an audit trail for a single user
Large retention period
Searching and filtering log capability
Cons:
Inconsistent documentation
No free trial available
Log assembly and organization is complex and less easy to work with
Less efficient support
Pros:
Provide monitoring of system log data, metrics data, and network data
Can be integrated with popular dashboard platforms like ELK stack, AWS cloud watch
Jason based log filtering and parsing
Free trial available with limited data volume
Cons:
Cluttering GUI
No support for auditing
No support for automatic report creating
Pros:
Provide audit for individual users
Audit reports can be secured by using block chain technology
New modules can be integrated by using REST API
Collect logs from network devices like router, switches, etc.
Provide support for regulatory compliance of HIPAA, PCI-DSS, etc.
Cons:
Small community around
Less technical documentation available
Parsing and filtering of live data is not supported
Pros:
Collect data from network devices, SNMP events, and windows events
Centralized GUI based dashboard for log analysis
Capable of sending alerts on email and other applications
Implement auditing compliance for PCI DSS, HIPAA, etc.
A large and active user community
Cons:
Supports only windows
No support for parsing and filtering of live data
Less feature in the dashboard in comparison of other logging servers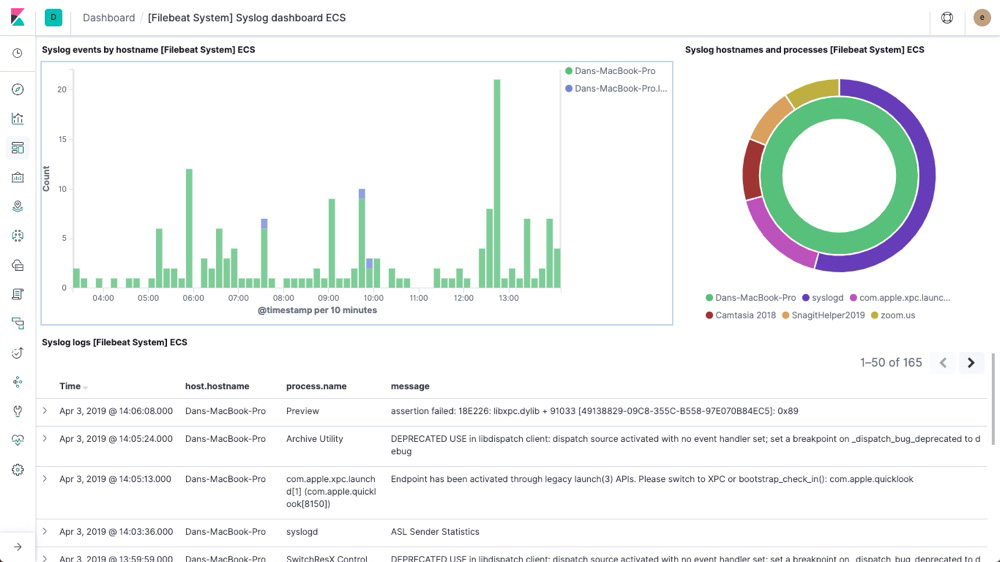 Pros:
Popular as an extension for log collection in ELK stack
Lightweight agent based can export logs to elk and Kibana dashboard
Can be integrated with many open-source matrix-based dashboards
Capable of collecting application logs of Nginx, Apache, SQL, etc.
Can be used to collect log data of network devices
Cons:
ELK stack is very memory consuming, can't run on low memory CPU
Can be hard to configure especially when you want to change the destination of the application after deployment
Does not support parsing and filtering of live data
Very hard to troubleshoot security incidents

Pros:
A lightweight log collection agent
Can be integrated with other REST-based log analyzer dashboard
Supports the collection of application logs like SQL etc.
Capable of providing compliance-ready data
Collect data from Linux, Windows, Mac, Solaris and network devices also.
Collect data from the firewall to troubleshoot security incidents
Can be integrated with compliance dashboards like ELK stack and Kibana
Free trial available
Cons:
Does not have own server for log analysis
No GUI support
Hard to troubleshoot installation and configuration issues
No active user community
Pros:
Free and open-source log collector, parsing and analyzer
Rich UI for real-time log analysis
No memory restrictions of data collection
Highly scalable can be integrated
Capable to send alerts on multiple channels including email and phone alerts
Support on-premise data center 
Cons:
Project is abandoned no longer actively maintained
Slow and memory-intensive
No support of cloud infrastructure
Pros:
Highly scalable, Designed by Facebook to collect real-time log data from thousands of servers
Open source and free Apache Linux
No memory threshold can collect petabytes of data
Useful for very large data centers
Works on on-premised data center
Cons:
Project abandoned, no longer maintained by Facebook
No support for collection of network device
No GUI support
---
---